customized ATSC 3.0 monitoring
The StreamScope® XM Dashboard application enables TV engineers and other personnel to create their own custom web-based displays of real-time data from ATSC 3.0 IP and RF inputs.
Design your own dashboards
You can design dashboards from a large selection of predefined KPI graphic components such as thumbnails, graphs, bar charts, and histograms, which can be combined and formatted into customized layouts.
For ATSC 3.0 IP and RF inputs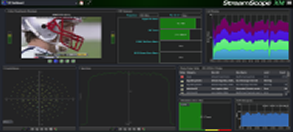 IP (top) and RF (bottom) input dashboard examples. Click to enlarge.
StreamScope XM Dashboard displays data from StreamScope XM Analyzer ATSC 3.0 IP and RF inputs. This flexible, user-friendly software makes it easy to maintain high performance and QoS across NextGen TV networks.
View a free webinar about the new StreamScope XM Dashboard. ►