versatile data broadcasting system
SkyScraper provides point-to-multipoint DTV content distribution, with targeted point-to-point delivery. It's the most widely deployed datacasting system in North America, supporting terrestrial, cable, satellite, and IP multicast applications.
New distribution and revenue opportunities
Here are some ways SkyScraper is used today:
Corporations distribute digital content to branch offices, stores, customers, and partners to support training, advertising, and information management.
TV networks and station groups use satellite links to distribute ads and programs to affiliate and member stations, reducing costs and ensuring quality.
Public TV stations use available bandwidth to support their charter and deliver multimedia content for education, homeland security, and other services.
Scalable architecture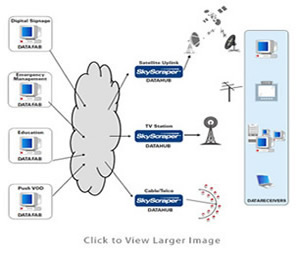 SkyScraper is a highly scalable and extensible system. Open interfaces and modular architecture provide an end-to-end environment for content distribution applications that can be adapted to any network.
Modular components
SkyScraper has three main components to meet the requirements of your value chain and business model:
DataFab simplifies content flow management by enabling content publishers to organize content, set up broadcast schedules, and target content to receivers.
DataHub simplifies bandwidth control by enabling broadcast pipe managers to allocate bandwidth among multiple content publishers, insert content into broadcast streams, and monitor and report bandwidth usage.
DataReceiver extracts content from broadcasts and enables content recipients to extract content from broadcast streams and make it available to end users.