managed cloud service

GuideBuilder Cloud combines a web-based user interface, central management, and network-based PSIP carousel download to generate low-maintenance, cost-effective electronic program guides (EPGs) for terrestrial ATSC signals.
Provides worry-free EPG metadata
By reducing hardware infrastructure, GuideBuilder Cloud lowers broadcasters' power and operational expenses. Freed from maintaining hardware, software, and local listing services, technical personnel can focus on more pressing tasks.
And cost-saving, centralized control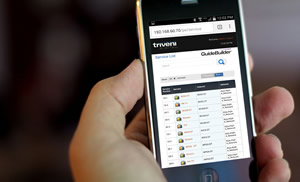 Includes a web-based application for viewing and editing schedule changes. (Click to view sample page.)
GuideBuilder Cloud ingests schedule listings, maps them to services, and outputs EPGs for multiple DTV channels. Triveni Digital experts will configure this turnkey system for low-power stations, duopolies, and station groups, providing scalability as your network needs grow. Plus, GuideBuilder Cloud is ready for transitions to ATSC 3.0.