video transport stream monitors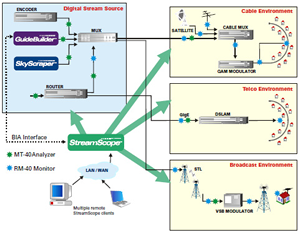 StreamScope MPEG transport stream monitors ensure superior viewer QoS and full regulatory compliance for all types of DTV networks.
Remote QoS monitoring
Install these low maintenance monitors at staffed or unattended sites, so engineers can view real-time dashboards, custom alerts, detailed reports, and more.
Learn about...
StreamScope RM-50 ►
Monitors multiple RF, ASI, and SMPTE inputs, and one GigE input.
StreamScope RM-50 HBE ►
High-bandwidth edition monitors all standard inputs, plus two GigE inputs.
StreamScope RM-50 10GigE ►
Highest-bandwidth model monitors DTV networks with 10GigE infrastructures.