MPEG transport stream monitors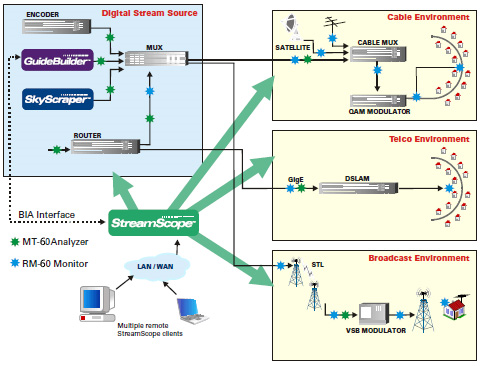 StreamScope RM-60 monitors ensure quality of service and regulatory compliance throughout DTV networks.
For complete
QoS assurance
Install these low-maintenance servers at remote or local sites to view color-coded dashboards, custom alerts, spot checks, current and historical reports, and more.
In DTV networks of all bandwidths...
StreamScope RM-60 ►
Monitors multiple RF, ASI, and GigE inputs.
StreamScope RM-60 HBE ►
High-bandwidth edition monitors up to six GigE inputs.
StreamScope RM-60 10GigE ►
Highest-bandwidth edition monitors two 10GigE inputs.
View a free webinar about StreamScope RM-60 transport stream monitors. ►