NAB Show New York Exhibitor Preview
October 19-21, 2022
Javits Center, Booth 830
New York City
PRINCETON, N.J. - October 3, 2022

ATSC 3.0 deployments are accelerating in the U.S., driving the need for solutions that optimize the delivery of new revenue-enhancing services. At NAB Show New York, Triveni Digital, the industry leader in service quality assurance solutions, will demonstrate its end-to-end NEXTGEN TV solutions for broadcasters. Triveni Digital's ATSC 3.0 solutions offer extensive integration with third-party products and have been deployed by leading broadcasters in the U.S., including Meredith, Hearst Television, Sinclair Broadcast Group, and ARK Multicasting.
"Broadcasters moving to ATSC 3.0 want to deliver new revenue-generating services such as advanced emergency alerts, program guides, targeted advertising, and datacasting applications in the most efficient way possible," said Ralph Bachofen, vice president of sales and marketing at Triveni Digital. "At NAB Show New York, we'll highlight how Triveni Digital is simplifying the transition to NEXTGEN TV with end-to-end ATSC 3.0 solutions that support a wide array of datacasting services to boost revenues."
Triveni Digital Solutions Highlighted at NAB Show New York Will Include:
Driving New Revenue Streams With SkyScraper® XM Datacasting System
At NAB Show New York, Triveni Digital will showcase its SkyScraper® XM Datacasting System for ATSC 3.0. The system offers unparalleled scalability and efficiency for delivering advanced, revenue-enhancing datacasting services. SkyScraper XM supports standard content distribution and private NRT distribution applications over ATSC 3.0 and ATSC 1.0, with optimized data delivery features such as Forward Error Correction (FEC), Opportunistic Data Insertion, and statistical multiplexing through hybrid broadcast and broadband delivery systems.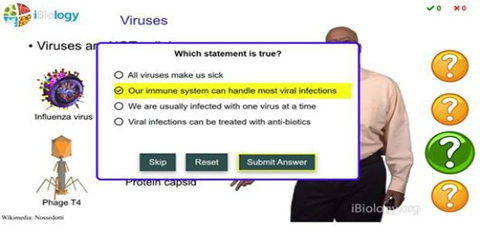 SkyScraper XM interactive elearning (Click to enlarge.)
Triveni Digital will demonstrate the SkyScraper XM system for a variety of datacasting applications. As ATSC 3.0 is more broadly deployed, Triveni Digital's SkyScraper XM will accommodate new use cases on a variety of hardware and operating system solutions.
Delivering a Superior Quality of Service With StreamScope® XM ATSC 3.0 Monitor
A key highlight at NAB Show New York will be Triveni Digital's new StreamScope® XM ATSC 3.0 Monitor. The ATSC 3.0 professional monitoring, auditing, and logging system is a must-have solution for broadcasters, increasing their operational efficiencies and enabling them to deliver a high quality of service for NEXTGEN TV. The system also includes long-term monitoring and reporting capabilities that speed up postmortem analysis.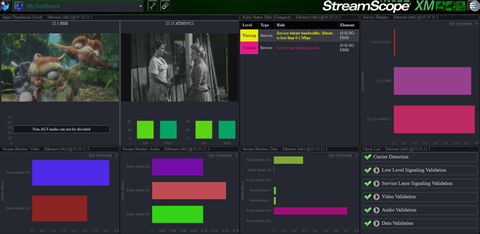 Click to enlarge.
The ATSC 3.0 monitor offers seamless integration with Triveni Digital's StreamScope XM Analyzer, StreamScope XM Dashboard, and StreamScope Enterprise, and is a must-have solution for broadcasters operating in the NextGen TV environment. Connecting to Triveni Digital's StreamScope Enterprise centralized software solution, the system provides broadcasters with enterprise-wide visibility into ATSC 3.0 service assurance issues, helping them detect, isolate, and resolve these issues quickly.
StreamScope® Enterprise Centralized QoS Management
Using Triveni Digital's StreamScope® Enterprise platform, broadcasters can perform nationwide or regionwide QoS monitoring, with the capability to manage a collection of quality assurance elements, view overall system status, and launch problem-solving sessions for specific faults detected. The StreamScope Enterprise platform connects to Triveni Digital's StreamScope XM ATSC 3.0 Monitor to streamline NEXTGEN TV delivery. StreamScope Enterprise is also integrated with Avateq's AVQ200 RF signal inspector to optimize quality of service monitoring.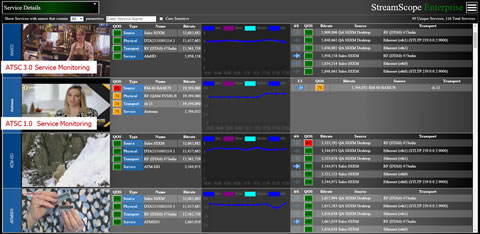 StreamScope Enterprise (Click to enlarge.)
# # #
Company Overview:
Triveni Digital is a leading provider of program guide and metadata management, broadcast stream encoding, data broadcasting, and service quality-assurance solutions for broadcasters and service providers. Renowned for their ease of use and innovative features, Triveni Digital's solutions enable customers to deliver enhanced programs and services to television viewers. Working with leading industry partners, Triveni Digital employs an open and standards-compliant approach to the digital television market. As a leader in ATSC 3.0 solutions, a key contributor to standards development, and an active participant in next-generation ATSC trials and deployments, Triveni Digital is leading the charge to a new, exciting broadcast television future. More information is available at
www.TriveniDigital.com
.
Note to Editors: When referring to Triveni Digital, please use the complete company name, "Triveni Digital." Product and company names mentioned herein are the trademarks or registered trademarks of their respective owners.
Follow Triveni Digital:
Facebook:https://www.facebook.com/pages/Triveni-Digital/137957436263401
Twitter:https://twitter.com/TriveniDigital
LinkedIn:http://www.linkedin.com/company/32484?trk=tyah