SCTE Cable-Tec Expo Exhibitor Preview
Sept. 19-22, 2022
Philadelphia, PA
Booth 5022
PRINCETON, N.J. - September 13, 2022

As the number of ATSC 3.0 deployments grow rapidly across the U.S., cable operators without a direct link to broadcast stations must pick up transmissions over the air and validate that the streams are compliant. Evaluating the quality of both ATSC 1.0 and ATSC 3.0 transmissions is critical to ensure a superior quality of service (QoS) for subscribers. At SCTE Cable-Tec Expo, Triveni Digital, the industry leader in service quality assurance solutions, will demonstrate its end-to-end NEXTGEN TV solutions for the cable TV industry. Triveni Digital's ATSC 3.0 solutions offer extensive integration with third-party products and have been deployed by leading cable operators.
"NEXTGEN TV has arrived, and cable operators need to be prepared to measure its impact on their operations, especially given the competitiveness in the cable TV market," said Ralph Bachofen, Vice President of Sales and Marketing at Triveni Digital. "At SCTE Cable-Tec Expo we are showcasing innovative, end-to-end ATSC 3.0 solutions for cable operators that are designed to increase operational efficiencies while reducing overall costs."
NEW Solutions Highlighted at SCTE Cable-Tec Expo Will Include:
StreamScope® Combo Analyzer for ATSC 1.0 and ATSC 3.0
Triveni Digital's StreamScope® ATSC 1.0 and ATSC 3.0 Combo Analyzer is the only solution on the market today that supports both standards, allowing operators to compare streams and quickly detect, isolate, and resolve issues to ensure high-quality viewing experiences at all times.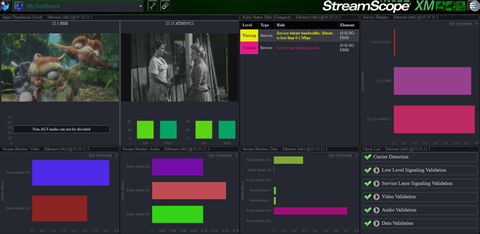 Click to enlarge.
The StreamScope Combo Analyzer features StreamScope XM Dashboard software to streamline network monitoring, analysis, and maintenance for ATSC 3.0. Additionally, it offers a 12-port input card from DekTec, allowing operators to simultaneously analyze multiple ATSC 1.0 and ATSC 3.0 streams, which increases efficiency, speed, and cost savings. Using the StreamScope Combo Analyzer, operators can create rules-based alarms to quickly pinpoint service quality issues.
StreamScope® Enterprise Centralized QoS Management
Triveni Digital will demonstrate its StreamScope® Enterprise platform via the cloud at SCTE Cable-Tec Expo. Using this powerful platform, cable operators can perform nationwide or regionwide QoS monitoring, with the capability to manage a collection of quality assurance elements, view overall system status, and launch problem-solving sessions for specific faults detected.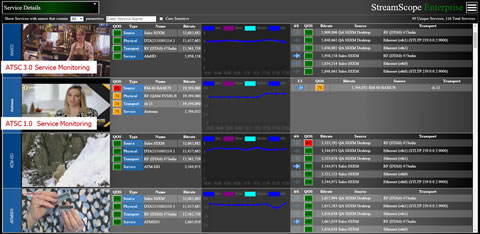 Click to enlarge.
# # #
Company Overview
Triveni Digital is a leading provider of program guide and metadata management, data broadcasting, and video quality assurance solutions for broadcasters and service providers. Renowned for their ease of use and innovative features, Triveni Digital's solutions enable customers to deliver enhanced programs and services to television viewers. Working with leading industry partners, Triveni Digital employs an open and standards-compliant approach to the digital television market. As a leader in ATSC 3.0 solutions, a key contributor to standards development, and active participant in next-generation ATSC trials and deployments, Triveni Digital is leading the charge to a new, exciting broadcast television future. More information is available at
www.TriveniDigital.com
.
Note to Editors: When referring to Triveni Digital, please use the complete company name, "Triveni Digital." Product and company names mentioned herein are the trademarks or registered trademarks of their respective owners.
Follow Triveni Digital:
Facebook:https://www.facebook.com/pages/Triveni-Digital/137957436263401
Twitter:https://twitter.com/TriveniDigital
LinkedIn:http://www.linkedin.com/company/32484?trk=tyah