Triveni Digital Wins Digital Media World Award for StreamScope® XM Verifier ATSC 3.0 Solution
PRINCETON, N.J. - December 19, 2019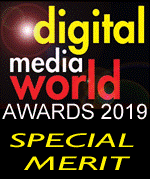 Triveni Digital today announced that its StreamScope® XM Verifier ATSC 3.0 software application won Digital Media World magazine's Special Merit Award in the category "IP Broadcast Solutions - Switching, Routing, Monitoring." StreamScope XM Verifier received the award for responding to an industry-wide critical need for service-quality assurance solutions at an imperative time in broadcast history, as TV stations begin delivering ATSC 3.0 services.
"Winning this award is validation that StreamScope XM Verifier is an essential tool for broadcasters today to seamlessly transition to ATSC 3.0," said Ralph Bachofen, vice president of sales and marketing at Triveni Digital. "Great things come in a small packages, and that couldn't be more true than with StreamScope XM Verifier. It's a highly portable solution that improves operational efficiencies and enhances quality of service, while ensuring that users can fully absorb and understand the complexity of the ATSC 3.0 standard."
StreamScope XM Verifier provides a complete view of the health of ATSC 3.0 streams, offers cost-effective SaaS business-model options to fit any budget, and enables the delivery of more than one signal to viewers with optimized robustness. Additionally, the StreamScope XM Verifier provides a wide range of RF advancements to improve broadcasters' analysis and visibility into ATSC 3.0 quality of service.
The Digital Media World Awards recognize products and services that push media opportunities forward and develop new techniques and possibilities in broadcast content creation, delivery, and management. The main objective of the awards contest is to support and promote the rapid development taking place in media and entertainment, including new business models and creative use of digital media.
More information about Triveni Digital products is available at www.TriveniDigital.com.
# # #
About Triveni Digital
Triveni Digital is a leading provider of program guide and metadata management, data broadcasting, and video quality assurance solutions for broadcasters and service providers. Renowned for their ease of use and innovative features, Triveni Digital's solutions enable customers to deliver enhanced programs and services to television viewers. Working with leading industry partners, Triveni Digital employs an open and standards-compliant approach to the digital television market. As a leader in ATSC 3.0 solutions, a key contributor to standards development, and active participant in next-generation ATSC trials and deployments, Triveni Digital is leading the charge to a new, exciting broadcast television future. More information is available at
www.TriveniDigital.com
.
Note to Editors: When referring to Triveni Digital, please use the complete company name, "Triveni Digital." Product and company names mentioned herein are the trademarks or registered trademarks of their respective owners.
Follow Triveni Digital:
Facebook:https://www.facebook.com/pages/Triveni-Digital/137957436263401
Twitter:https://twitter.com/TriveniDigital
LinkedIn:http://www.linkedin.com/company/32484?trk=tyah