Triveni Digital Introduces Software-Based ATSC 3.0 Verification With New StreamScope® XM Verifier
Entry-level Visual Services Tool to Verify ATSC 3.0 on the Go
Visit Triveni Digital at the 2018 NAB New York Show, Booth N1362
PRINCETON, N.J. - October 10, 2018
Triveni Digital today announced a new entry-level member of its award-winning StreamScope® product line – StreamScope XM Verifier. Verifier is a Windows-based software visualization tool providing individual station engineers and field staff a comprehensive at-a-glance view of their ATSC 3.0 service.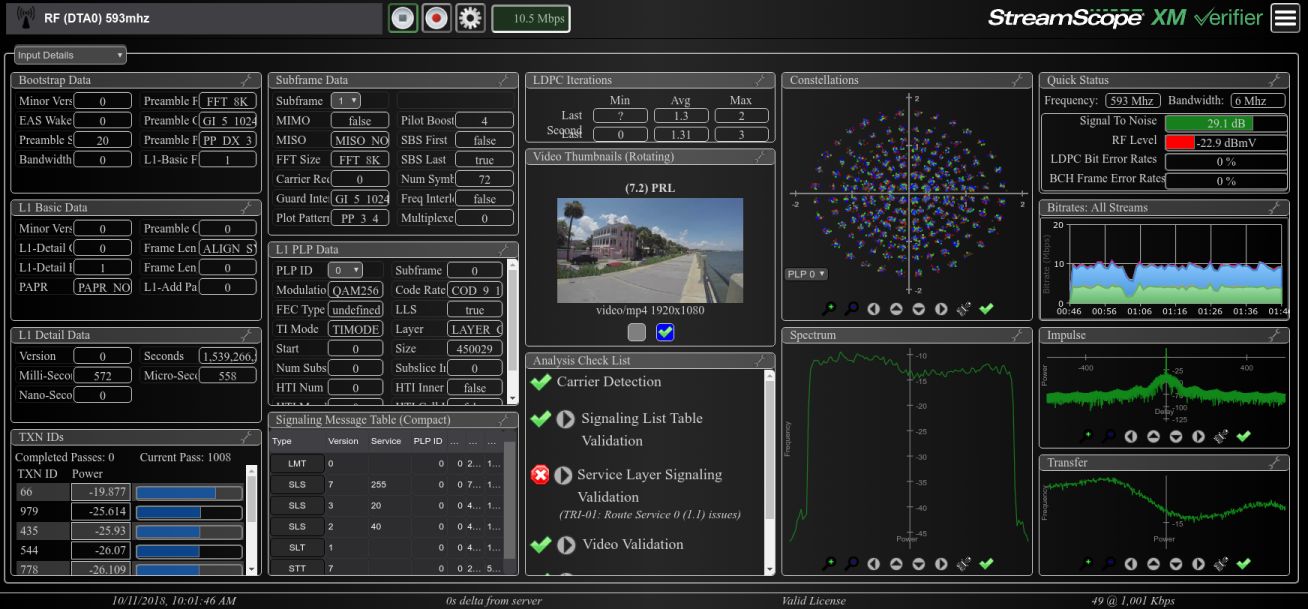 StreamScope XM Verifier is essential ATSC 3.0 stream verification software. (Click to enlarge.)
This entry-level ATSC 3.0 verification software can be installed on Windows 10 laptops and is compatible with a number of third party ATSC 3.0 input devices, minimizing the number of tools a DTV Engineer needs to bring to sites. Using the same comprehensive ATSC 3.0 analysis engine as the company's StreamScope XM MT professional workgroup analyzer, Verifier offers a streamlined interface for quick visual inspection and validation of ATSC 3.0 system correctness.
"As the broadcast ecosystem becomes more complex with the introduction of ATSC 3.0, there is a greater chance for errors that can degrade audio and video quality, or interrupt services altogether" said Ralph Bachofen, vice president of sales and marketing at Triveni Digital. "Our new StreamScope XM Verifier offers an unequaled level of simplicity and convenience for engineers responsible of putting and keeping ATSC 3.0 on air, ensuring that broadcasters can cost-effectively handle quality-assurance issues as they make a seamless migration to ASTC 3.0."
With StreamScope XM Verifier, you can verify a wide range of ATSC 3.0 quality-assurance metrics, including video, metadata, STLTP, ROUTE/MMTP, IP routes, and optional advanced RF spectrum analysis in a software package that is ideal for field testing. StreamScope XM Verifier handles a variety of input options (i.e., Ethernet, file-based, basic RF via receiver dongle or advanced RF with a receiver card). Putting StreamScope XM Verifier in the hands of key technical personnel can improve operational efficiencies and quality of service on-the-go, while helping them absorb and learn the complexity of rich new ATSC 3.0 standard.
Triveni Digital will demonstrate the StreamScope XM Verifier at the 2018 NAB New York Show, October 17-18 at booth N1362. More information about Triveni Digital products is available at www.TriveniDigital.com.
# # #
About Triveni Digital
Triveni Digital develops systems that enable television service providers and broadcasters to deploy enhanced programs and services to their viewers. Triveni Digital's products for program guide and metadata management, data broadcasting, and video quality assurance are renowned for their ease of use and innovative features. Working with leading industry partners, Triveni Digital employs an open and standards-compliant approach to the digital television market. More information is available at
www.TriveniDigital.com
.
Note to Editors: When referring to Triveni Digital, please use the complete company name, "Triveni Digital." Product and company names mentioned herein are the trademarks or registered trademarks of their respective owners.
Triveni Digital Contact:
Ralph Bachofen
Vice President of Sales and Marketing
Tel: +1 609 716 3502
Email: pr@TriveniDigital.com
Follow Triveni Digital:
Facebook:https://www.facebook.com/pages/Triveni-Digital/137957436263401
Twitter:https://twitter.com/TriveniDigital
LinkedIn:http://www.linkedin.com/company/32484?trk=tyah