Triveni Digital Showcases Next-Gen SkyScraper Datacasting System at the 2022 NAB Show
End-to-End Solution Offers Integration With ATSC 3.0 Receivers, Enterprise Media Hub, and First Responder Paging Systems to Support a Wide Range of Use Cases
Visit Triveni Digital at the 2022 NAB Show, Booth W9418
PRINCETON, N.J. - April 21, 2022
Triveni Digital today announced that the company will demonstrate its latest product line supporting datacasting applications over ATSC 3.0 and ATSC 1.0 with technology partners at the 2022 NAB Show. Leveraging Triveni Digital's extensive experience with innovative data broadcast applications, the new SkyScraper® XM Datacasting System supports a wide range of emerging datacasting use cases for ATSC 3.0 while offering backwards compatibility with ATSC 1.0 infrastructures.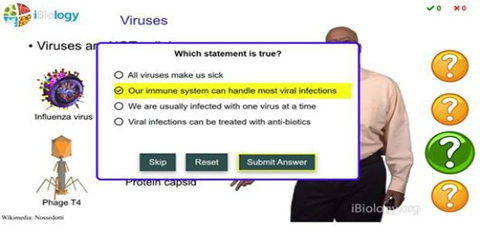 Interactive elearning example
"ATSC 3.0 was developed to enable robust support of data distribution over broadcast airwaves," said Mark Corl, senior vice president of emergent technology at Triveni Digital. "Broadcasters today are exploring strategies for growing their revenue streams around data distribution in various application areas including education, emergency communication, and automotive. The SkyScraper XM system can be integrated with third-party systems, including broadcast chain elements, providing the widest variety of deployment options, rather than a one-size-fits-all approach with limited receiver and infrastructure choices."
Designed to optimize throughput and robustness, the SkyScraper XM system leverages the ATSC 3.0 standard to support multiple datacasting applications. The system supports standard content distribution and private NRT distribution applications over ATSC 3.0 and ATSC 1.0, with optimized data delivery features such as forward error correction, opportunistic data insertion, and statistical multiplexing through hybrid broadcast and broadband delivery systems.
Triveni Digital's SkyScraper XM datacasting system is integrated with the company's new Media Hub™ enterprise receiver and home receivers from Zinwell to simplify shared media distribution in a wide variety of contexts.
"Zinwell is a leading manufacturer from Taiwan providing a variety of electronic devices. We specialize in manufacturing and designing STB, audio/video, networking, and satcom products. Through the collaboration with Triveni Digital, we provide end-to-end solution and extend users' experience," said Paul Wu, vice president of sales at Zinwell Corporation.
At the 2022 NAB Show, Triveni Digital will showcase different applications for the SkyScraper XM datacasting system, including:
E-learning: SkyScraper XM is integrated with a home ATSC 3.0 receiver from Zinwell and an education content delivery system from the Information Equity Initiative (IEI) for simplified distribution of e-learning services. The IEI system enables educators to send customized digital content — including large videos, documents, and HTML files — to students through their local public television airwaves. Students are provided with a simple antenna and device to download digital content onto a Wi-Fi-connected device. The system is also ideal for a variety of applications built on distribution to shared-use facilities in concert with Triveni's Media Hub receiver.
"Information Equity Initiative is pleased to have Triveni Digital as a technology partner as we work with stations, educational institutions, and philanthropic organizations to connect households and facilities — both in the United States and abroad –— with impactful and curated educational content," said Erik Langner, co-founder and CEO of Information Equity Initiative. "In so doing, we are helping to ensure that students who lack access to the internet can still obtain individualized lesson plans directly from their teachers."
First responder communications: In partnership with PBS North Carolina, SkyScraper XM is integrated with Device Solutions' companion paging receivers to bring the benefits of ATSC 3.0 data delivery to first responder communications. Leveraging the ATSC 3.0 datacasting solution, EMTs, first responders, and firefighters can communicate with improved coverage, reduced latency, and more secure data encryption.
"Device Solutions is excited to be on the leading edge of ATSC 3.0 and partnering with Triveni Digital to develop an end-to-end, portable solution for datacasting to first responders," said Chris Lamb, CEO of Device Solutions. "Triveni Digital has been an enthusiastic partner, complementing our device development skills with deep expertise on the systems and standards. Their support is at the heart of our success delivering a working system in cooperation with PBS-NC."
More information about Triveni Digital products is available at www.TriveniDigital.com.
# # #
About Triveni Digital
Triveni Digital is a leading provider of program guide and metadata management, data broadcasting, and video quality assurance solutions for broadcasters and service providers. Renowned for their ease of use and innovative features, Triveni Digital's solutions enable customers to deliver enhanced programs and services to television viewers. Working with leading industry partners, Triveni Digital employs an open and standards-compliant approach to the digital television market. As a leader in ATSC 3.0 solutions, a key contributor to standards development, and active participant in next-generation ATSC trials and deployments, Triveni Digital is leading the charge to a new, exciting broadcast television future. More information is available at
www.TriveniDigital.com
.
About Zinwell Corp.
Founded in Taiwan in 1981, Zinwell is a provider of digital cable/satellite/terrestrial receiving equipment, broadcast and broadband communication equipment, IPTV receiving equipment, and wireless equipment. As a leading enterprise in these fields, Zinwell has discreetly laid the groundwork for long-term development. In addition to our human resources, we never cease to foster technical know-how, products, and teamwork.
Information Equity Initiative
The Information Equity Initiative (IEI) is a non-profit organization that believes everyone needs access to high quality digital learning resources, regardless of geography or income, if they are to compete and thrive. IEI was created in 2021 by three PBS member organizations (WITF in Harrisburg, PA; PBS39 in Allentown, Bethlehem, and Easton, PA; and SCETV in South Carolina) whose constituents are disproportionately impacted by the digital divide and information access inequity. IEI's technology partner is Signal Infrastructure Group.
About Device Solutions Inc.
Device Solutions Inc is an engineering firm located in Research Triangle Park, servicing customers since 2003. We provide embedded hardware and software design services, industry certifications and approvals support, manufacturing support, and deployment services. Device Solutions has deep experience in the design and development of electronic devices for multiple vertical marketplaces including consumer electronics, medical, asset tracking, remote monitoring, home/office automation, and utilities.
Follow Triveni Digital:
Facebook:https://www.facebook.com/pages/Triveni-Digital/137957436263401
Twitter:https://twitter.com/TriveniDigital
LinkedIn:http://www.linkedin.com/company/32484?trk=tyah