Triveni Digital Brings Insights on Landmark NextGen TV Deployment to NAB Amplify
PRINCETON, N.J. - January 12, 2022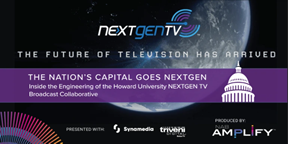 Triveni Digital announced today that it will share insights about NextGen TV being deployed in the nation's capital at an upcoming panel discussion on the NAB Amplify website. Ralph Bachofen, the company's vice president of sales and marketing, will participate in "Nation's Capital Goes NextGen: Inside the Engineering of the Howard University NextGen TV Broadcast Collaborative" exploring the launch of WHUT as the lighthouse station in Washington, D.C., a landmark achievement in the national deployment of ATSC 3.0. The panel session will be available for on-demand streaming beginning Jan. 18 at amplify.nabshow.com.
"The collaboration between Howard University and WHUT is a shining example of the innovative NextGen TV deployments currently underway in North America," said Bachofen. "The NAB Amplify session will shed light on the unique challenges that NextGen TV presented in the nation's capital, due to the size of the market. During the session, I'll elaborate on solutions that are being used to simplify implementation and management of enhanced ATSC 3.0 services."
The session will be moderated by Sam Matheny, CTO and executive vice president of the NAB, and will discuss the Howard University NextGen TV Broadcast Collaborative, a unique collaboration between a university-owned public television station and some of the largest commercial television station groups and networks in the country. During the session, Bachofen and other NextGen TV experts will examine the inner workings of the launch, the special opportunities it offers tomorrow's engineering talent, and how it fits within the larger ATSC 3.0 rollout across the country. Howard University is using an end-to-end ATSC 3.0 solution from Triveni Digital for NextGen TV service delivery.
Bachofen is an expert on the role of data delivery and the effective provision and monitoring of DTV services in ATSC 1.0 and ATSC 3.0 infrastructures. He is a frequent speaker on the topic of test and measurement strategies, advanced broadcast platforms, and mobile DTV delivery, at a variety of industry conferences.
More information about Triveni Digital products is available at www.TriveniDigital.com.
# # #
About Triveni Digital
Triveni Digital is a leading provider of program guide and metadata management, data broadcasting, and video quality assurance solutions for broadcasters and service providers. Renowned for their ease of use and innovative features, Triveni Digital's solutions enable customers to deliver enhanced programs and services to television viewers. Working with leading industry partners, Triveni Digital employs an open and standards-compliant approach to the digital television market. As a leader in ATSC 3.0 solutions, a key contributor to standards development, and active participant in next-generation ATSC trials and deployments, Triveni Digital is leading the charge to a new, exciting broadcast television future. More information is available at
www.TriveniDigital.com
.
Note to Editors: When referring to Triveni Digital, please use the complete company name, "Triveni Digital." Product and company names mentioned herein are the trademarks or registered trademarks of their respective owners.
Follow Triveni Digital:
Facebook:https://www.facebook.com/pages/Triveni-Digital/137957436263401
Twitter:https://twitter.com/TriveniDigital
LinkedIn:http://www.linkedin.com/company/32484?trk=tyah