Triveni Digital Ramps Up NextGen TV Efficiencies With Latest StreamScope Enterprise Software
PRINCETON, N.J. - October 27, 2021
Triveni Digital today announced enhancements to its StreamScope® Enterprise centralized software solution, allowing broadcasters and MSOs to maintain video quality of service (QoS) and regulatory compliance throughout DTV enterprises. New fleet management capabilities on StreamScope Enterprise prevent service quality degradation, reducing system downtime and operational costs for broadcasters and MSOs. Triveni Digital will showcase the next generation of StreamScope Enterprise at Triveni Digital LIVE Forum, an interactive, virtual event on Nov. 3.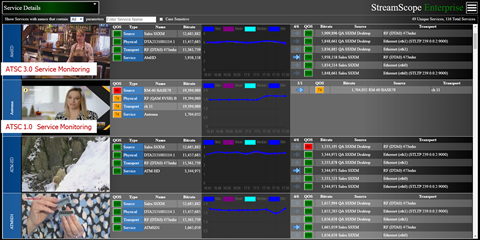 "NextGen TV broadcast technology is complex. Broadcasters need enterprise-wide visibility into service assurance issues to detect, isolate, and resolve issues quickly," said Ralph Bachofen, vice president of sales and marketing at Triveni Digital. "The latest StreamScope Enterprise gives broadcasters a bird's eye view of QoS assurance with powerful analysis; robust, centralized monitoring; user-friendly dashboards; and seamless system upgrades, configuration, and backup and restoration. Leveraging our next-gen StreamScope Enterprise, broadcasters and MSOs are empowered to deliver exceptional-quality television services, reduce capex and opex, and streamline their operations during the transition to NextGen TV."
Utilizing StreamScope Enterprise, users can connect to an expanding range of platforms, including Triveni Digital's ATSC 3.0 Broadcast Gateway scheduler, GuideBuilder® XM ATSC 3.0 Transport Encoder, StreamScope XM for ATSC 3.0 broadcast streams, and StreamScope MT-60 Analyzer for ATSC 1.0 input analysis. By enabling users to centrally monitor and manage the entire ATSC 1.0 and ATSC 3.0 equipment fleet, StreamScope increases cost efficiencies for broadcasters and speeds up the resolution of QoS issues.
StreamScope Enterprise offers new centralized fleet management functionalities to simplify software upgrades and system configuration across the enterprise, saving significant time and resources. Furthermore, StreamScope Enterprise ensures seamless system backup and restoration in the event of an outage.
With the centralized video quality management solution, broadcasters and MSOs can oversee a diverse range of quality assurance elements, view overall system status, and launch problem-solving sessions for specific faults detected in ATSC 1.0 and ATSC 3.0 environments. Users can view the status of ATSC 1.0 and ATSC 3.0 services in real time from the same dashboard. Custom dashboards are also available to streamline the transition to NextGen TV.
To learn more about StreamScope Enterprise, register for a free event pass to Triveni Digital LIVE Forum at https://be-live.live/events/Triveni_Digital_LIVE/signup/.
More information about Triveni Digital products is available at www.TriveniDigital.com.
# # #
About Triveni Digital
Triveni Digital is a leading provider of program guide and metadata management, data broadcasting, and video quality assurance solutions for broadcasters and service providers. Renowned for their ease of use and innovative features, Triveni Digital's solutions enable customers to deliver enhanced programs and services to television viewers. Working with leading industry partners, Triveni Digital employs an open and standards-compliant approach to the digital television market. As a leader in ATSC 3.0 solutions, a key contributor to standards development, and active participant in next-generation ATSC trials and deployments, Triveni Digital is leading the charge to a new, exciting broadcast television future. More information is available at
www.TriveniDigital.com
.
Note to Editors: When referring to Triveni Digital, please use the complete company name, "Triveni Digital." Product and company names mentioned herein are the trademarks or registered trademarks of their respective owners.
Follow Triveni Digital:
Facebook:https://www.facebook.com/pages/Triveni-Digital/137957436263401
Twitter:https://twitter.com/TriveniDigital
LinkedIn:http://www.linkedin.com/company/32484?trk=tyah